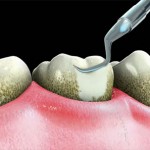 A dental prophylaxis is performed not only to clean the teeth, but also to evaluate the oral cavity for any other problems that might be present. The cleaning not only includes what you can see, but also the area under the gumline, which is the most important part.
The process of cleaning your teeth is very simple and entails :-
We will use an ultrasonic cleaner and water sprayer to loosen and remove plaque and tartar from your teeth and gums.
We then will scrape additional plaque and tartar off your teeth by using a metal tool called a hand scaler.
Next we will brush your teeth with a rotary polishing cup and a gritty type of toothpaste that polishes and cleans your teeth.
The last step is usually flossing your teeth, review your oral hygiene techniques, and give you a fluoride treatment to strengthen and protect your teeth.
The process usually is complete in around 30 minutes depending on the the build up and other factors in the mouth.  The American Dental Association recommends that you visit your dentist at twice a year to get a routine examination and cleaning.